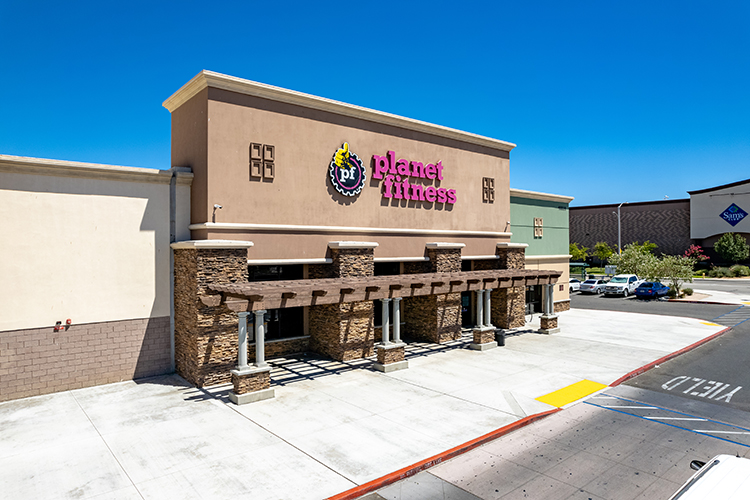 For investors evaluating a shopping center purchase, the anchor tenant can make or break the deal. Although grocery stores and big-box retailers have traditionally topped the list of ideal anchors to help draw customers to retail centers, another worthy option deserves investor attention: fitness centers.  
When we think of traditional anchors in multi-tenant retail, names like Walmart, Target, Hobby Lobby, T.J. Maxx, most grocery stores, and other big box retailers come to mind. While gyms may not check all the same boxes as traditional anchors, over the last several decades they have emerged as resilient tenants that bring steady traffic to neighboring retailers and a great investment. 
Resiliency 
When retailers shut down at the beginning of the pandemic, fitness centers were among the first places to empty—and many of the small, local gyms stayed that way. However, the large fitness chains like Planet Fitness demonstrated that even a global crisis would not stop them. Almost as soon as they opened their doors again, Planet Fitness operators began repaying rent deferments, often ahead of schedule, putting themselves right back on their pre-pandemic trajectory. 
Fitness buffs made do with home equipment, outdoor runs and streaming workouts during the pandemic, but many missed the community of their local gym. By second quarter 2022, gym patrons returned in force, leading to a 15.9 percent increase in fitness visits compared to second quarter 2019 according to retail traffic data firm, Placer.ai. 
Health and Wellness is Here to Stay 
In recent years, scientific data has continued to demonstrate the physical, mental and emotional benefits of exercise—and Americans are paying attention. According to IBISWorld, over the last five years the number of gym, health and fitness clubs in the U.S. has grown an overage of 2.7 percent annually, reaching more than 112,000 locations in 2022. 
While attaining a beach body may have been the ultimate goal of exercise a decade ago, the top two reasons that Americans work out today are to reduce stress and feel better mentally. Big fitness brands are adapting with more wellness services, stress-busting workouts and community events. Some are even adding new services like hydro massages and cryotherapy, creating even more incentives for members to make regular visits.  
Additionally, a heightened focus on mental health has opened eyes to the social benefits of exercise. Gymgoers appreciate the opportunity to mingle with like-minded people multiple days a week.  
Steady Foot Traffic 
Unlike grocery and big-box retail patrons, fitness center members typically make several visits in one week—sometimes even daily. Moreover, they tend to linger. After a long workout, a member may stop by the café next door to pick up an iced coffee or smoothie or grab a quick dinner at a nearby restaurant. In family-friendly shopping centers, parents might bring their children to a neighboring trampoline park after they've been cooped up in the gym's kids club for an hour or two.  
The data backs up these anecdotes. Analysis of cellular tracking data shows that one popular fitness location had 572,000 visits in a single month from people who made at least 10 visits that month—compared to 191,000 visits to a traditional AAA credit retail anchor. The fitness market outlook is bright as consumers increasingly prioritize self-care, wellness and community engagement.
As consumers once again fit gym visits into their schedules, it's time to consider whether fitness-anchored retail fits into your portfolio. While every investment is unique, a highly trafficked, loyalty-based tenant can have a significant influence on a shopping center's overall synergy and long-term success. As you begin to evaluate fitness-anchored centers, consider the following general tips:

To download a copy of this report, please provide the following information: