End of the year reports released in January showed an economy with little momentum going into the new year. A few of the early reports for January, however, suggest the economy is starting 2023 better than expected. The question is, how long will it last? The Fed's efforts to slow down demand are bearing fruit. Most supply bottlenecks are easing as well, leading to a better balance between supply and demand that will enable inflationary pressures to continue to ease in 2023. Although inflation is slowing, the Fed is not convinced that price pressures are on a sustainable downward path and consequently has indicated that more rate increases are on the horizon. 
Consumer Metrics 
The December Consumer Price Index (CPI) showed year-over-year inflation at 6.5% and the year-over-year figure has now declined for six consecutive months after peaking at 9.1% in June. Additionally, on a month-to-month basis, the December reading declined for the first time since May 2020. The core CPI (excluding food and energy) eased on a year-over-year basis to 5.7%. The Producer Price Index (PPI), which provides an indication of pipeline pricing pressures, also fell in December by 0.5% – the sharpest monthly decline since April 2020. The disinflationary trend is likely to continue as the slowdown in shelter inflation will begin to register in early 2023. Nevertheless, despite the improving trend in inflation, the absolute numbers remain well above the Fed's inflation target of 2.0%.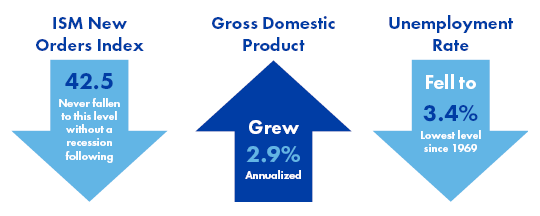 Retail sales fell 1.1% in December after declining 1.0% in November. Sales have declined three of the last four months and are now at the lowest level since May. Consumers are pushing back on higher prices forcing retailers to offer more discounts and promotions in order to clear inventories. 
In addition to the contraction in retail sales, industrial production fell 0.8% in December following a downwardly revised decline in November of 0.6%. Housing starts were down 1.4% in December following a 1.8% decline in November. As stated earlier, the economy was clearly losing momentum heading into 2023. 
Concern about the slowing economy was demonstrated in earnings reports from the big banks. The big six banks reported that $7.2 billion has been set aside for loan loss provisions – the most since Q2 2020.